JavaScript and Front End Development
Learn User Interface/User Experience(UI/UX) design and development in AdobeXD, JavaScript programming language, VueJS and ReactJS.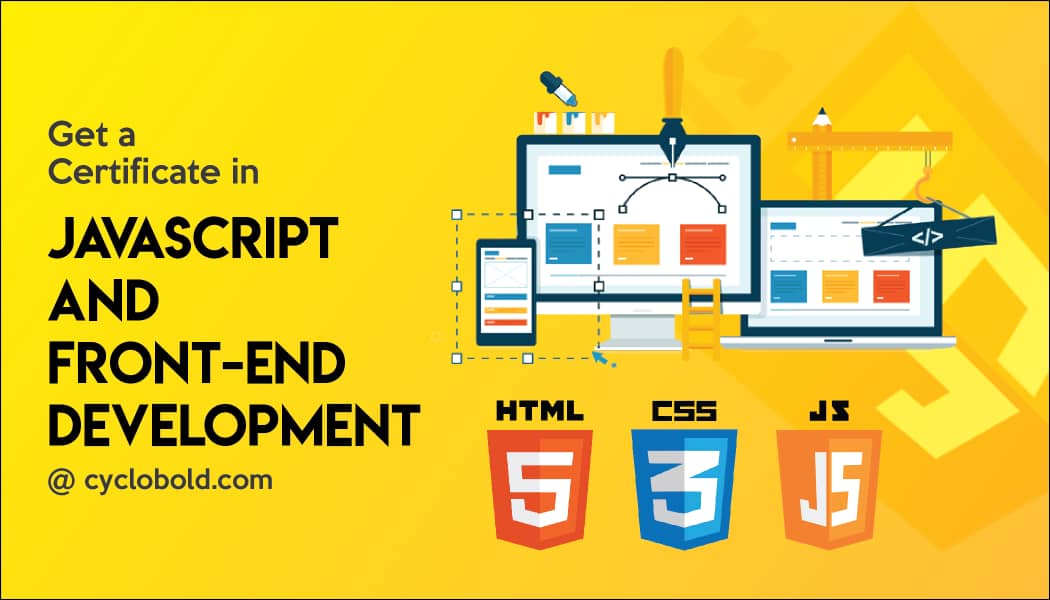 Master The Front-End in 4 Months
JavaScript is a lightweight, interpreted programming language that powers the front-end. It is so ubiquitous that it is also used for backend development with runtime environment such as NodeJs.
This course will give you all the tools you need to become a master front-end developer. You will take a deep dive into JavaScript programming, learn all the weird parts of JavaScript.
JavaScript is Weird...
JavaScript is a weird programming language, but it is also interesting. In fact, the weirdness of this language is why it is interesting. At Cyclobold Tech Academy, you will learn practical knoweledge required to take your skills to the next level.
All projects worked on will be added to your portfolio and properly prepared to give you an edge over others.
Some of The Topics You Will Learn
HTML5 and CSS3
JavaScript Programming
JQuery, ReactJS and VueJS
Bootstrap v^3
Working with APIs
Web Optimization
AdobeXD
Creating WireFrames and Prototypes
You Will Gain Access to the Following
Free Video Recording on JavaScript
Course Guides used by some of the leading developers in the industry
Discussion Groups on WhatsApp, Slack Channels
Logbooks
Seminars and Workshops
Who Should Take This Course?
Anyone interested in learning how to build browser-based applications
Anyone interested in taking a deep dive into JavaScript programming language
Anyone wanting to start a career in Web development
Anyone interested in learning web design
What You Need Before Taking This Course
Zero knowledge of programming.
A mind willing to learn
Your personal computer
Attendance to class.
Certificate After Training
Certificate will be awarded after completion of your study.
Course Fee
Course fee is currently N170,000 only.
Money Back Guarantee
---
We give you 100% of your money within the first week of payment if you are not satisfied with our training. We won't stress you, no complaints, no delay.
Training Venue
2, Oweh Street, Jibowu, Yaba(Near Yaba Tech.), Lagos State.